As part of the Notre Dame de Namur community, we honor the life and sacrifice of Sr. Dorothy Stang, SNDdeN, who was martyred in Brazil on February 12, 2005. Sr. Dorothy was from the Ohio Province and went to Brazil in 1966 where she worked tirelessly to help poor farmers build independent futures for their families. She also worked to protect the environment by speaking out against the wealthy loggers, ranchers and land speculators who were plundering and causing the destruction of the Amazon rain forest. In order to attempt to silence her, some of these powerful entities hired two men to kill her as she walked alone along a dirt road to meet with villagers from a rural area. Her response to her attackers was to take out a bible and read the beatitudes as they shot her. Her legacy continues today in the people of Brazil and gives hope to the work of human rights defenders and environmentalists.
As we prepare for the 15th anniversary of her death, we will be joining the Notr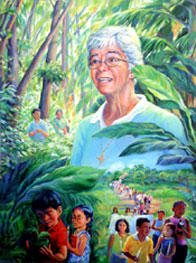 e Dame de Namur community around the world with various projects during the upcoming year. One of the first ways we will celebrate her life and legacy is by participating in a novena dedicated to her name. Thank you for joining us as we remember this remarkable woman who dedicated her life to sharing God's goodness in the face of obstacles and challenges, in the spirit of St. Julie Billiart. We hope these nine days of reflection on the Beatitudes provide both heart-affirming words and ideas for ways that we can bring more peace and justice in the world.
Novena for Sister Dorothy Stang
February 4 through February 12, 2020
Dorothy Stang Novena Day 1 – Tuesday, February 4
Dorothy Stang Novena Day 2 – Wednesday, February 5
Dorothy Stang Novena Day 3 – Thursday, February 6
Dorothy Stang Novena Day 4 – Friday, February 7
Dorothy Stang Novena Day 5 – Saturday, February 8
Dorothy Stang Novena Day 6 – Sunday, February 9
Dorothy Stang Novena Day 7 – Monday, February 10
Dorothy Stang Novena Day 8 – Tuesday, February 11