The exciting month-long schedule of 2020 Holiday events planned at Notre Dame Health Care.
Tuesday, December 8
Decorate trees around the house
Thursday, December 10th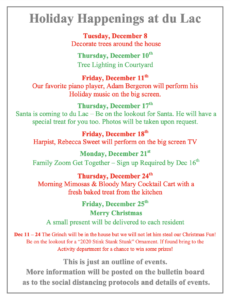 Tree Lighting in Courtyard
Friday, December 11th
Our favorite piano player, Adam Bergeron will perform his Holiday music on the big screen
Thursday, December 17th
Santa is coming to du Lac! Be on the lookout for Santa. He will have a special treat for you too. Photos will be taken upon request
Friday, December 18th
Harpist, Rebecca Sweet will perform on the big screen TV
Monday, December 21st
Family Zoom Get Together – Sign up Required by Dec 16th
Thursday, December 24th
Morning Mimosas & Bloody Mary Cocktail Cart with a fresh baked treat from the kitchen
Friday, December 25th
Merry Christmas! A small present will be delivered to each resident
December 11 – 24
The Grinch will be in the house but we will not let him steal our Christmas Fun! Be on the lookout for a "2020 Stink Stank Stunk" Ornament. If found bring to the Activity department for a chance to win some prizes!
This is just an outline of events. More information will be posted on the bulletin board as to the social distancing protocols and details of events.